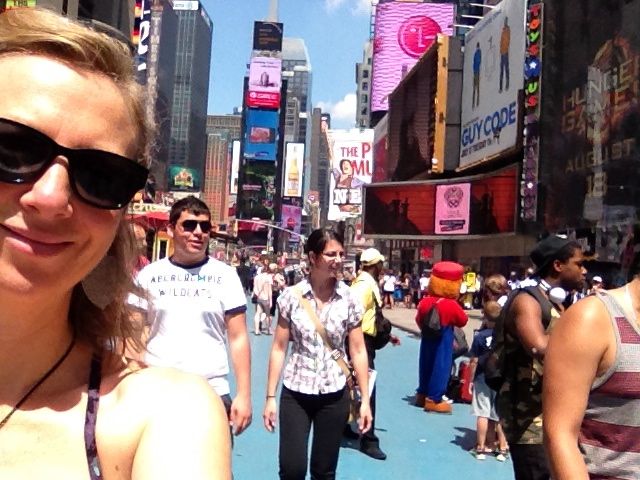 Jet lag sucks big ones. I've just arrived home to my little hippie town after an epic trip to New York, which was part business, part pleasure. Now that I'm home, I will soon go back to paying out on life in my town making intelligent and entertaining social commentary about life in my town.
But before I do, here's a post I prepared earlier. I tapped this one into my iphone while guzzling beer in the 35-degree heat at St Mark's Ale House in the East Village (I'm always drawn to the grittier areas when I travel for some reason… I just feel more comfortable with the seedy than the swish. It seems like there's more soul there. Give me the Lower East Side over Park Avenue any day).
Anyway, I wanted to share some travel insights with y'all, that I gathered during a week in New York all by myself. Let's start with the positives…
10 upsides of travelling alone:
1. You go where you want, when you want. Gold.
2. You can lie to the locals about where you're from and what you do.
3. You don't have to arm wrestle your travel partner for the first shower/use of toilet/last chip.
4. You make more effort to chat to people (they'll often buy you drinks when they find out you're a famous actor from Australia).
5. You don't get sick of the company (unless you're a Kardashian).
6. You wee and eat on your own watch. Want to count that beer you had at 3pm as a late lunch or an early dinner? Fine by you.
7. You are infinitely more observant and take way more in (because you're not listening to your friend whinge about their sore feet or how they're sick of having beer for lunch).
8. You get to spend uninterrupted time eavesdropping on people's private conversations (a highly recommended way to get to know the locals).
9. You never have to compromise.
10. You grow stronger in your own identity, because you overcome your fear of looking like a Nigel No Friends if you go out to dinner or to a club by yourself. It's an essential life skill, learning not to care (too much) about what other people think of you, and it's helpful to practice it in a foreign land, around people you will never seen again.
10 downsides of travelling alone:
1. There is no one to share the experience with, and that is downright sad.
2. You sometimes feel self-conscious in restaurants and bars. You may wonder if people think you're a prostitute. Or, you may find yourself getting into a futile argument with the too-cool-for-school waitress who tells you the tables out the front are only for two or more people, and that you (LLLLOSER!) have to sit down the dingy side alley with the drunks and the homeless people, who are better company anyway.
3. You can't split costs.
4. The only perspective you get on a place is your own, and if you're a boring person, that sucks.
5. You only exist as a head and neck in all your photos… some only half a head or just a double chin.
6. You can't get your friend to mind the table while you order food or go and score some crack.
7. You can't hit your friend up for money when you run out.
8. You become schizophrenic and hear conversations and songs replaying over and over in your head. My brain had the Blondie song Union City Blue on high rotation for seven days straight.
9. You can't dump the blame on someone else when things go wrong.
10. You may, at times, feel a little lonely. That's OK. It's normal. Just acknowledge what's coming up for you, accept you are feeling lonely and breathe through it. Or, if that doesn't work, go to the pub and get smashed.
In summation: travelling to New York alone was a character-building experience. And I don't mean that in a bad way. I had an insane amount of fun, spent a lot of time looking upwards and thinking, holy crap that thing is HUGE.
But next time, I'll bring a friend or a loved one, because ultimately, it's nice to share.