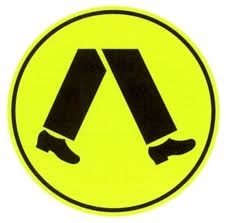 People are insanely smiley and polite in this town, which is very sweet. But they sometimes take the politeness way too far.
I'm used to city rudeness and self-centredness. I feel safer when everyone's looking out for Number One and we all know where we stand. It's called survival of the fittest.
So, while I'm happy to say I've learned a lot about good manners and common courtesy since moving here, I don't go in for extreme politeness. That's when you go out of your way to be so polite that it actually endangers lives — not just your own, but other people's.
People do that a lot here.
A pedestrian crossing is there for a reason, right? As drivers, we know we have to stop for someone who is waiting to cross. It's no biggy. It's actually so deeply programmed into our psyches that we don't even see it as an inconvenience (even moi, who hates having to stop for anyone or anything).
So it really annoys the shit out of me when I stop at a pedestrian crossing and the person who has already started to cross spots an opportunity to be polite,  doubles back and waves me across.
Then we have to have an awkward Minties moment, where I shake my head and wave them across, they shake their head and wave me across, and I have to then stop myself from shouting, "JUST CROSS THE FUCKING ROAD!", because if at the last minute they did decide to cross the road right at the same second I decided to drive on, and I unintentionally mowed them down, guess who would be at fault? ME!
Granted, that doesn't happen every single time I stop at a crossing. But what does happen (almost) every single time is that people get halfway across the crossing, then smile and wave at me, as if I've done something truly amazing. That's not me being polite folks, that's just me following the road rules. But hey, feel free to smile and wave at me every time I do what the law requires me to do. Have it your way.
The extreme politeness moves into dangerous territory when people take it upon themselves to change the road rules — just to be nice. So, when they are driving up the ONE main street of town and I'm waiting for them to pass so I can turn in from a side street, they will actually stop their car in the middle of the road and earnestly wave at me to drive in front of them.
So, we have another Minties moment, where I adamantly shake my head and tell them to drive on, because they actually have right of way and it really won't hurt my feelings if they just stick to the fucking road rules, and they shake their head and insist on waving me on, and I just turn up the music, put my feet up on the dashboard, sit back and have a little snooze while I wait for them to drive ahead. Like they were supposed to do in the first place.
Note to townsfolk: when being extremely polite could get an innocent person booked, cause a car crash, annoy the crap out of someone or just create confusion where none existed before, then you've misunderstood the fundamental point of manners: to make the OTHER person feel comfortable.
Is anyone else out there annoyed by inappropriate politeness? Do tell.