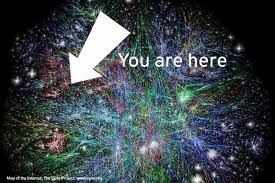 If I had a dollar for the number of times I've heard someone say — "I'll put it out to the Universe" — I'd be a lot richer than I am now.
Hang on: did that just count as ME putting out to the Universe that I want more money? Cause I do, I definitely do.
If it did count, and the Universe is listening, I want as much money as you can throw at me, Universe.
I 'released' my poverty mentality a long time ago, but it appears that my requests for you to bring me more money have fallen on deaf ears. (Do you even have ears, Universe?)
Just so there's no ambiguity and you don't penalise me for writing this blog post, I want to say this loud and clear: GIVE ME MORE MONEY!
I don't have a problem with people 'putting it out to the Universe' if that's what makes them feel good. It's all good. Just as long as they don't use it as an excuse for doing nothing themselves.
The problem stems from the fact that somewhere along the line (between the Yoga Sutras being written 2000 years ago and The Secret going ballistic), someone told you that all you have to do is imagine that whatever you want to happen, can and WILL happen. Just hold that thought in your mind and then … poof! Your wish is granted.
The Universe — the totality of all that exists or all that is known to exist — not only knows who you are, it knows what you want. And actually cares. Its waiting for your call. Is it though?
That immense, vast, unknowable, mind-blowing, massively huge thing that scientists spend their whole lives trying to understand, is just waiting for little old you to ask it to help you meet a new partner. Or get a new car. Or lose weight. Or get rich. Or whatever your heart desires. It's called the Law of Attraction and I don't understand it because my brain is caught somewhere between being a rampant New Ager in the 1990s and my self of today – the me with a healthy respect for science and empirical evidence.
Don't get me wrong: I've experienced times when I've really wanted something and thought about it a lot and then it has happened. But did the Universe have anything to do with it? I wouldn't have a clue.
It's nice to imagine there's a benevolent force out. It's a very seductive idea, being able to have whatever you want just by allowing your words and thoughts and affirmations to float outside your mind and into the surrounding air and out to the ether where it gets read by the Universe's elves, who type up your request and ensure it's delivered to you promptly.
Perhaps the whole 'putting it out to the Universe' thing does work. I'm open to that possibility. Sure I am. But so far, no one has been able to explain it properly. Not to me, anyway. I feel like I need to know exactly how something works before I believe in it, although I still don't know how the internet works and I believe in that.
So yeah. I'm clearly confused. Please explain.