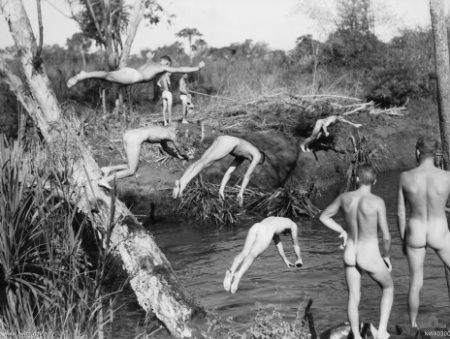 There are two places in the world where I've had the memorable experience of swimming naked with a group of men and women: Japan and Maleny.
In Japan, it's a cultural tradition to be starkers in front of complete strangers when you visit onsens (hot thermal baths). It's totally fine to get your bits out in the name of having a nice relaxing soak in a hot pool with 20 other people in the buff, but god help you if you stand your chopsticks up in your rice or blow your nose on the train.
I lived in Japan for a year and it intrigued me how comfortable Japanese men and women — who struck me as incredibly uptight about the strangest things — were, about being naked in front of each other. As a gaijin (foreign alien) I knew they weren't all that comfortable when I got in the pool with them. Although they did a good job of looking nonchalant, you could feel the tension rising in the steaming hot air. It was as if they were partly repulsed at having to share the same water with me, as well as curious to see what a gaijin looked like naked. They perved at me out of the corner of their eyes on more than one occasion, I know they did. And vice versa.
I felt a bit uncomfortable because I knew I was about as inconspicuous as the Incredible Hulk, but bathing in the buff in public was one of those authentic Japanese experiences you just had to have, like singing karaoke in front of a large crowd.
Skinny dipping with skinny hippies
Like the Japanese, hippies also love to get their gear off in front of other people, and if you find yourself at a party where everyone is going skinny dipping and you're the only one who doesn't, you feel like a bit of a prude if you don't get with the program and swim in the nude.
I've been to a few parties around here where I thought all we would be doing was eating, drinking and playing music. Silly me.
Eventually, when the last Fleetwood Mac singalong had ended, we all ended up swimming naked in a waterhole, pretending we weren't perving at each other. It was nothing sexual, mind you. It was just a refreshing afternoon swim where we all behaved as if it was a totally normal thing to do. Because there's nothing more natural in the world than the human body, right?
A local friend, Shannon, brought the "nude swimming phenomenon" as she called it, to my attention last weekend. Shannon is one of the few people I know who actually grew up in Maleny, and she says people have been getting their gear off at parties around here since she was 15.
She said it was considered a cool thing to do, but one day she asked herself if she really felt OK with it, and the answer was a resounding NO. She did not. And I get where she's coming from. Unless you do it all the time so it becomes as normal as brushing your teeth, then it feels weird.
The thing is, most of us are used to wearing clothes in front of other people. So stripping off in front of them, no matter how close the group of friends, can be quite confronting. You soon find out if you're an exhibitionist or a prude, or somewhere in between.
There are many cultures where nudity is considered completely normal, and I applaud that. Hooray for answering the door with no clothes on! Of all the cultural traditions that exist in this great world, nudity would have to be the most entertaining.
What people in those cultures know, is that being nude around other people can be very equalising. Contrary to what you would expect, it can help you feel more comfortable about your body if you have any hangups about your hangdowns.
But sadly, Australia is not one of those places. Our cultural norms revolve more around beer guts than naked butts.
So it's kind of surreal when you're at a barbecue, eating a sausage while you chat to some guy about the pathetic state of Australian politics, and the next minute his sausage is on display as he swings off the rope swing.
It's probably not cool of me to say this, and I probably won't be invited to any more parties where there's a possibility of a swim in the nuddy, but I reckon it goes against human nature not to have a look.
And what has been seen, cannot be unseen. Remember that.