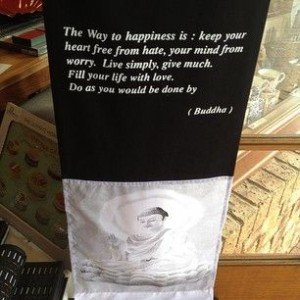 We have a situation here. Buddhism has become just a little bit too cool, and consequently, we have become inundated with Buddhist paraphernalia.
Frankly, I am OVER seeing cheap Buddhist crap everywhere. Not the quality stuff, but the tacky buddha statues you see in the $2 shop, or these Buddhist wall hangings (pictured) hanging in one of the local furniture stores in town, right there beside some dainty floral English teacups. Strange bedfellows.
Don't get me wrong, I don't have a problem with Buddhism — just its commoditisation. And the fact you don't see tacky shit from other religions everywhere you go.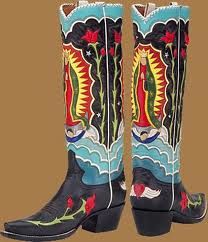 Why don't we see crucifixes or wall hangings with pictures of Jesus and his cool sayings hanging up in furniture stores? Or the Mother Mary? Go to Mexico and you'll see the Virgin de Guadalupe's image plastered on everything from toilet roll holders to cowboy boots to handbags. Somehow, they make it look ultra-hip. And even if you're not Catholic, you feel awesome walking around with your new Virgin Mary cowboy boots on.
Buddhism is one of the fastest growing religions in Australia, while Christianity is on the decline. But Christians still outnumber Buddhists by a long stretch, so this flooding of the market by Buddhist-everything doesn't make sense.
There are more Buddhist artefacts out there than there are people who know anything about Buddhism. Plus, the Buddhists I know don't have their houses crammed with cheap Buddhist nicknacks, so the question is: who's buying all this Buddhist stuff?
Home decorators on a budget, that's who.
But why is it so cool to decorate your house with Buddha pictures, statues and wall hangings when you're not an actual Buddhist?
Is it because buddha statues look more peaceful in the garden than Jesus nailed to a cross with blood pouring out where that nasty Roman guy speared him? Perhaps.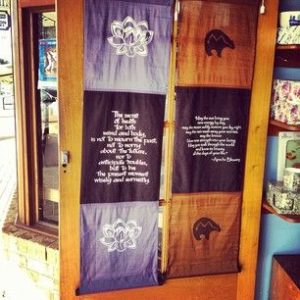 I myself am guilty of buying a beautifully carved wooden Buddha in Bali about ten years ago, which sits gathering dust in the corner of my loungeroom. I give his smooth bald head a little rub every now and then. He's part of the family, now.
I've studied Buddhism a bit over the years, and done a few Vipassana retreats, but I wouldn't call myself a Buddhist scholar. Or even a Buddhist.
And yet, when I passed these wall hangings today I thought to myself: Hmmm, maybe I should buy one of these to hang up at home so I can remember to be spiritual. After all, they're really cheap and I can't afford to buy any decent art at the moment.
Then I thought, nah, it'll just hang there looking stupid, I'll never wash it just like I never wash my curtains, then I'll throw it out in a few years once it's so faded it's illegible.
I mentioned this to my friend Jade today, and she said she was in our local shit shop, Gone Bonkers and was about to stock up on some cute little Buddha statues that were going cheap when she stopped and thought: "Hang on, this isn't what Buddhism is all about".
Nailed it, Jade.