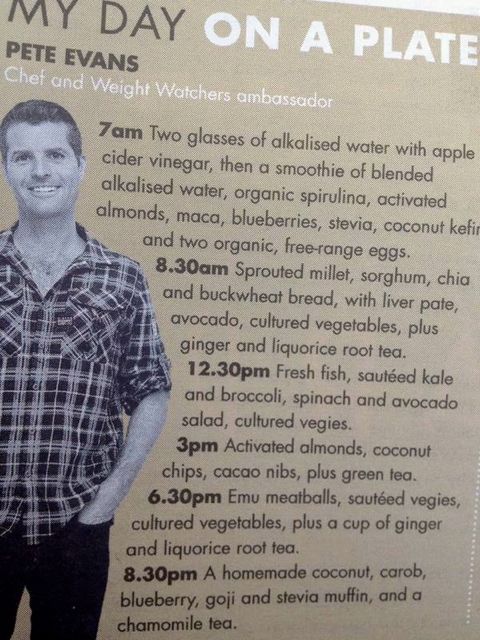 Since My Kitchen Rules chef and Weight Watchers ambassador Pete Evans revealed his daily diet in the Sunday Age yesterday, the Twitterverse has gone beserk and the media has jumped on it like it's the most fascinating thing in the world. THIS crazy dude eats activated almonds. What a dickhead!
This afternoon I was driving home from work listening to Triple J and the DJ was going on and on about this craaaaaaazy thing called 'activated almonds', asking people to ring in and explain this really 'out there' thing Pete does to his nuts.
Pete has been slammed for his food choices, branded a 'wanker',  'pretentious' and 'ridiculous', prompting Weight Watchers to come out in support of him. Don't we Aussies just love a good put-down eh? Especially when someone is trying to do something positive for themselves.
Living in Maleny, I am surrounded by people who activate their almonds without even batting an eyelid! It's a daily ritual for many people I know, who also sprout their own sprouts and make their own sourdough bread. Shocking, I know.
I even know people who don't eat a single grain of sugar, no dairy, no wheat, no grains, no processed foods, no caffeine, no alcohol.
Not only that — I know of people around here who drink their own wee. Yes, you read that right. They say it's best early in the morning, hot and steamy with a bit of a head on it. I'm into eating well, but I draw the line at sipping my own urine, regardless of the purported health benefits. Plain old filtered tank water is fine by me, thanks.
I also know a vegan guy who is so strict about his diet he refuses to have sex with any non-vegans. I think that narrows the field somewhat, but hey, each to their own.
OK, so people can get a bit extreme when they start drilling down into different health regimes, but why do we, as Australians, have to knock them down to size?
A nutritionist quoted by Mamamia said there is "no scientific evidence" behind activated almonds. That may be true (I haven't looked up the science) but nuts do contain a high level of phytic acid and soaking them is said to release at least some of it.
The term 'nutritionist' seems to be a fairly loosely applied label in my opinion, because I've had nutritionists recommend I eat exactly the wrong foods for me when I've had various illnesses.
And what's with all the jelly 'nutritionists' give people in hospitals? Jelly is sugar people, SUGAR! And food colouring. Sugar + food colouring does not equal food. And it's always green jelly, too. At least give them red jelly. Red trumps green whenever it comes to sugary treats. What the hell, don't even bother making the jelly, just hand out packets of jelly babies and snakes. Same diff.
In a way, I'm glad this story has gone ballistic because it has brought to people's attention the fact that what most people consider a healthy diet is probably far from it. I think people might be feeling a little guilty for scoffing their pastries and chockies and beers and that's why, when they opened their Sunday papers and saw the words 'alkalised water' and 'activated almonds', they looked down at their sugary bowls of cereal and their white toast and their instant coffee with three sugars, and their immediate reaction was: "fucken wanker".
Pete, you must spend a lot of time thinking about and preparing your food. Life's too short to be obsessed with what you eat, if you ask me. However, I hereby state I give zero fucks about what other people eat. Whether you're gluten free, dairy free, flour free, sugar free. Whatevs. Just don't talk to me about it because it's B-O-R-I-N-G.