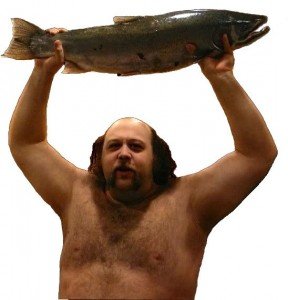 A red-blooded single woman cannot live in a small country town without giving internet dating a go, at least once. Internet dating is a viable option for meeting people in the city too, but it's not the dating lifeblood it is in a country town, where most of the single people are still in primary school or live in retirement villages.
The sheer population size in the city means, statistically, you're much more likely to meet someone in your age bracket when you're at the corner shop buying milk. And failing that, there are multitudes of bars, clubs, community groups and classes. If you work for a large organisation, chances are you'll meet somewhere there. Failing that, there are certain activities that attract the types of men you think you might fancy, like aikido, bush regeneration groups and sailing clubs.
I was about to join a sailing club when I moved to Maleny. I love the ocean and you know, boats are pretty good too. But if I was going to waste the whole weekend winding up ropes or whatever, I wanted a good chance of meeting Mr Right.
Fortunately, I didn't have to. I met someone from Maleny, of all places, and dropped everything to move here. When that didn't work out, I found myself in a town with three options for nightlife: the UpFront Club, the pub and the Irish bar. I quickly formed an opinion of the type of guy I was likely to meet at each. The Club: hippies, musicians, artists, guys with IT arms and dole bludgers. The pub: bogans. The Irish bar: alcoholics.
That was my uneducated, biased, narrow-minded opinion, of course. I know better now.
So I joined RSVP for a while. Then when I found out it was way cheaper, I joined Plenty of Fish. Before I go any further — dudes! What is it with the photos of yourselves either standing next to your car or holding a fish? Or holding a fish while you stand next to your car? Or the photos with the jagged edges where you've cut your ex-girlfriend out, but we can still see her earring and a lock of hair falling around her shoulders?
I don't get it. It's not that hard to take a selfie with your mobile phone that doesn't have your car, your fish or half your ex-girlfriend in it.
I have a theory about this. Guys are not generally in the habit of taking photos of themselves. They tell me it makes them feel a bit gay (not that there's anything wrong with that). They need a reason to have a photo taken of themselves. New cars and the catch of the day are both good reasons.
But it goes further. If the car is hot or the fish is big, they're hoping we will see them with their hot car and their big fish and equate it with power, virility and the ability to provide.
We don't. We're not looking at the car or the fish, we're looking at your smile, the warmth in your eyes and trying to ascertain some sort of clue about what kind of person you are.
We don't usually award you any points AT ALL for that car you imagine is an absolute chick magnet. Not the women I know, anyway. In fact, we may even deduct points if you're standing next to a bogan car, like a modified Holden Commodore. (There are exceptions here. My sister is a mechanic and would quite possibly marry someone for their Holden Monaro).
Before I tell you about my internet dating disasters, I want to preface my story with a disclaimer. Lots of people I know are in happy relationships with people they met on the internet. Some have even married. It can and does happen, it just didn't for me. And here's why:
Guy number 1: A human rights lawyer. Whoa! I thought I'd hit the jackpot with this one. He sounded totally awesome as I read his impassioned emails about his work protecting children in Africa. Wow, I thought. Someone who does good work in the world AND makes good money doing it. Very rare. We were all set to have our first coffee and I was practically hearing wedding bells, when he wrote to me with a warning something along the lines of: "Before we meet I must tell you one thing. One night when I was working in Africa, our camp was attacked by local tribesmen and my testicles were savagely hacked off. As a result, I speak with a rather high-pitched tone and people often mistake me for a woman on the phone. I also lost my left leg below the knee, but it has since been replaced by a rather attractive prosthetic that still allows me to do my 10-kilometre run each day." Holy crap! Poor guy, I thought. No balls and a woman's voice could take some getting used to, but I was still keen. Then I read this: "I'm so happy to have met you because now I no longer need to continue my onanistic lifestyle." Huh? I had to look that word up. To save you doing it, onanism is a Biblical term for masturbation. I can't believe I actually had to ask a friend if they thought he was full of shit before I deleted him.
Guy number 2: A mortgage broker. We had a few nice email chats and I scrutinised his profile closely before I agreed to meet him for a coffee. It looked like everything was in order. The only thing was, his photo was one of him surfing, far off in the distance. I couldn't see his face, or much of him at all. It didn't matter, he sounded OK in his profile: six feet tall, brown hair, blue eyes, loves surfing. In his preferences he had asked for a 'petite woman'. Before we agreed to meet, I told him I wouldn't exactly put myself in the 'petite' category. "That doesn't matter, he said, I'm just looking forward to meeting you." Great. So I drove to the beach to meet up with him and he was sitting on a bench in a leather jacket, waiting nervously. I got out of the car and when he stood up, he didn't go very far; he was all of four feet tall. His eyes were roughly in line with my nipples. Good for him, not so good for me. We had a coffee and a chat and that night, I called him to say it wasn't going to work for me.
Why? Not because he was shorter than me, but because he lied. If you begin a relationship by lying about something as obvious as your height, it's going to be all downhill from there.
I won't bore you with my story about guy number 3, who was Mr Perfect, but neglected to tell me before we met that he was leaving the country in five days to take a job overseas. One guess what he was after.
But I will offer a word of advice for men and women venturing into the rather artificial world of internet dating. It's tempting to talk yourself up, tell a little fib, use a photo from ten years ago when you were thinner or had more hair. But when you meet in the flesh, then what? Are you hoping you will dazzle them with your captivating personality, or that the pheromones will kick in and they won't realise you look nothing like you do in your photo?
Not going to happen. If you're not happy with the real you, why should anyone else be?
And one more note to the guys: please don't email us photos of your penises. It's weird and creepy. And it doesn't have the same visual impact and aesthetic quality as a woman's breasts. We'd rather wait and see it 'in context', if you know what I mean. And if you do email that naughty photo, be prepared for this to happen: