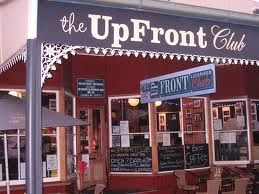 Note: This post was written in 2012 before the UpFront Club sadly closed 🙁
The UpFront Club was where I landed when I first drove into Maleny on a Monday afternoon after the 2004 Woodford Folk Festival. I knew one person, Nigel. By the end of that Monday night, I think I knew most of the town.
The UpFront Club is Maleny's communal loungeroom.
I must admit, I've bagged it out a bit over the years, having been accustomed to Sydney nightlife. But truth be told, I don't know if I could have stayed living here if it weren't for 'the Club', as we call it.
Last night I went along to the Club's Monday blackboard night for the first time in ages and I remembered what I loved about it when I first angle parked a hire car out the front eight years ago.
To fill you in, the UpFront Club is a cafe, bar, restaurant, music venue and art gallery all rolled into one. It's also one of Australia's longest-running co-ops.
Back in 1994, a bunch of hippies and folkies decided the townsfolk needed a decent place to hang out, eat, play music, have committee meetings and plan festivals, so they started their own club. As you do.
There was a bit of a co-op craze happening in Maleny back in those days, so the Club was one of many co-ops that gave Maleny its reputation as the groovy, socially-progressive town that it is.
Financially, the Club hung by a thread for years, but now it's thriving in a climate where most restaurants and clubs are struggling.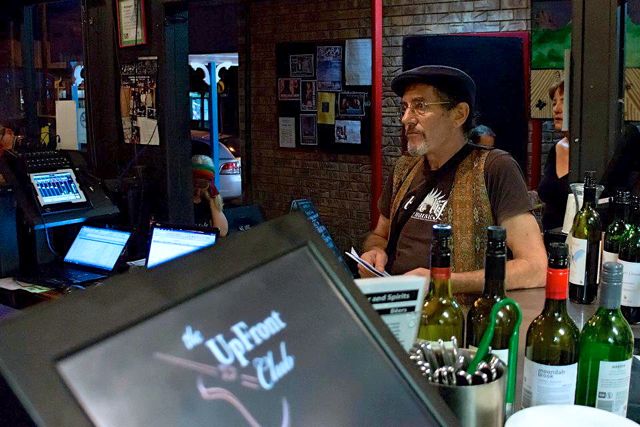 There's a blackboard night every Monday at the Club, organised by the Club's eternally devoted entertainment manager, Danny Rose. Performers take the stage for 15-minute slots and the variety is great, from big name musos passing through town, to local regulars, to spoken word performers, to kids banging out a tune.
When I first arrived in Maleny, I used to go along every Monday night. I think some people have gone every Monday night for 18 years, like Roger — everyone knows Roger. Likewise, Natalie Richy and Murray Wall from the Afro-Cuban outfit, Canta la Tumba. 'Nat and Muz' rarely miss a Monday night and like many professional musos in our area,  put their names on the blackboard week after week, just for the sheer love of playing music.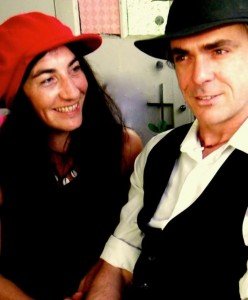 After years of going to the Club I got a bit over it and didn't go for a while.
But last night I realised, having just returned from New York with all its cool places to go out, that the Club's got it's own kind of cool going on.
For a start, it's genuinely 'all ages'. And I don't mean 15-year-olds mixing with 21-year-olds. I mean, babies mixing with schoolkids mixing with elders mixing with young adults. It's a true community space that's just so snuggly and welcoming.
And, it surprises you. Just when you think it will be a quiet night and you'll go home bored at 10pm, everyone comes out of the woodwork and the place goes off.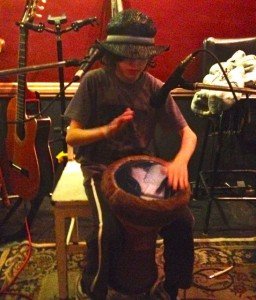 Last night there was a heavily pregnant woman, Ninindi Johnson, performing. She balanced her guitar on her bulging belly and sang with a bell-like clarity. Lucky baby in there, hearing such sweet sounds. Her wild-looking man and their tribe of barefoot kids just chilled while their mum was up there doing her thing.
Then a kid called Taylor got up. He'd booked himself in for a 15-minute slot to play his hand drum. He did not seem in the slightest bit nervous. He and his mum are new to town. I think they'll like it here.
While Taylor played his drum, a man in the audience who did not know him was sketching him. Beautifully. Turns out he's an artist from Brisbane, Colin Merrell.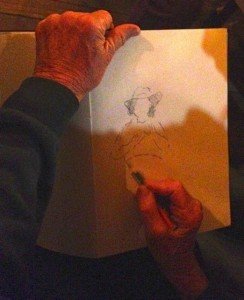 In one evening, I felt so touched by the generous sharing of creativity of a mother and her unborn child, a ten-year-old boy, and a grey-haired man.
Oh, and the Club's bartender Alex told me he loves my blog, and I wasn't expecting that. Thanks Alex!
We all need to have somewhere to go where we feel like we belong. The UpFront Club offers that, even to strangers. On Thursday nights they have a Welcome Mat night, where newcomers to town can go along and join in on a board game. If you're feeling a little lonely, you can always drop into the Club and chances are, you'll see a friendly face. You may even share a coffee and a table with someone you've never met before. It's that kind of place.
Local artists have a nice space to hang their work. Local musicians have a place to play. Young people can do work experience and learn how to work a coffee machine. Volunteers help out in the kitchen or in the back garden. There are 'on the couch' evenings where issues affecting our community get discussed. Plus, the food and coffee are great and the staff are uber-friendly.
Why am I singing the Club's praises so highly?
Because when I'm old and looking back on my life, I know I will remember the Club fondly. I will think of it as a quirky, endearing little haven that provided a steady anchor for my emotionally tumultuous transition from city to country life.
I may not make it down to the Club as often as I used to, but I like knowing it's there.
In fact, I can't begin to imagine Maleny life without it.