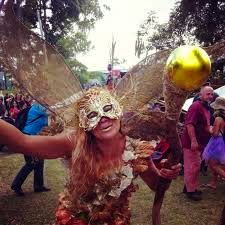 The first year I went to the Woodford Folk Festival I got stuck listening to a deafening bagpipe band at midnight on New Year's Eve. Bagpipes make me want to kill myself, so it wasn't my idea of a fun way to see in the new year.
But as is sometimes the case at Woodford, it was pissing down and I didn't want to run through the crazy rain and squelchy mud pits to get to another venue.
It was ten years ago and I was still a Sydneysider. A magazine had sent me to do a story on Woodford, and a friend and I went the whole hog and camped for the week.
We did it all: the yoga in the mornings, the drumming jams in the Chai Tent, the Greenhouse talks, the iced-spiced-soy-dandy from the pilgrims (our name for the people who run the Common Ground cafe).
We learnt to juggle in the circus area, carved messages and pictures on pavers (I never have found my paver on the any of the pathways, but I keep searching), painted Tibetan symbols and did the New Year sunrise chanting with Tibetan monks on the hill before collapsing in our tents.
And of course, hours upon hours of dancing to every style of music imaginable, mostly barefoot with sweat dripping off us and huge smiles plastered on our faces — which may or may not have been after a trip to the Happy High Herbs stall.
My first Woodford blew my mind. It was another world, a Utopia, a bubble of creativity and kindness and progressive thinking and environmental activism. I never wanted it to end. On the last day I was lining up for a coffee and the girl in front of me was singing – out loud. She didn't want it to end, either.
Think it sounds like a hippie festival?
It is and it isn't. Festival director Bill Hauritz says, "For many years the festival has been depicted in the media as a 'hippie' event. While we quite like the alternative tag, if it's a hippie event then there must be a lot of hippies and they must be very well educated. More than 60% of every adult at the festival has a university degree, including 18.8% with postgraduate degrees."
Why do people go back to Woodford year after year?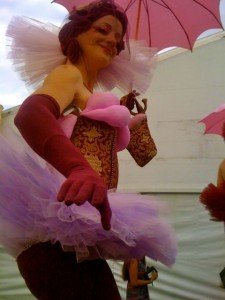 I've been on Woodford's media list for the past ten years and every year I look forward to my program arriving in the mail. It came yesterday and I tore it open. Bill always writes a heartfelt welcome letter, and this paragraph really stood out to me:
"In the early days, the object of the marketing campaign was to sell tickets for people to come to camp in the middle of the volatile Queensland summer, camp in an ill-prepared campsite, to use less than 5-star amenities, to listen to obscure musicians."
Sign me up!
Since the early days, the Queensland Folk Federation has spent more than $10  million to make it all a lot nicer and less muddy.
There is a well-maintained network of streets, with names that make you smile, like Withtwinsonthe Way, Hammeringa Way, Sgottabeabetter Way, The Way We Were, Prettybloody Close and Cantfocusup Close.
The nearest you'll get to a normal sounding street is Longandwinding Road, just near Deadskunkinthemiddleofthe Road. Music themes are used to name the streets too, like Hairway To Stefan, just around the corner from Hard Drive, Floppy Drive and Areallygood Route.
Woodford gets fancier by the year, but it never loses its original spirit and integrity (in my opinion).
As Bill said, most of the acts you see at Woodford, you've never heard of. So what makes people go back, year after year? For one, they trust the organisers to book quality acts — and we're rarely disappointed.
Secondly, it's more than a music festival. So much more. It's a folk festival in the truest sense — no longer primarily about folk music, but about all things that matter to the folk.
It really is a mini-world where we suspend the reality of our everyday lives for a week and give ourselves over to a different set of values: peace, hope, creativity, care for each other and the environment, music, art, health, laughter, love, passion, colour, joy, sharing.
If only the world was like Woodford.
Woodford — Australia's Woodstock
I like that Woodford sounds reminiscent of Woodstock — both set out to change the world, and both succeeded in changing a lot of people's worlds.
Woodstock was a consciousness-raising one-off; Woodford has been pumping out the good vibes every year for 19 years (27 years if you add the first 8 years when it was actually the Maleny Folk Festival).
Hey Bill — could we get Joni Mitchell to Woodford, since she missed out on Woodstock? How awesome would it be to hear her sing Big Yellow Taxi in the amphitheatre at night, with all the trees lit up? Gives me goosebumps.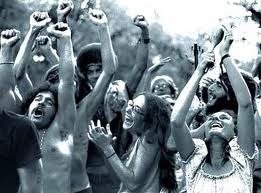 Woodford really has changed many people's lives, including mine. I met my son's father in the famous Chai Tent at Woodford. At that point, my life revolved around a city job and a Bondi Beach lifestyle that was a universe away from Maleny.
But six months later I was living here, and it was all because of Woodford. Where would I be, what would my life be like now, if I'd never been to Woodford?
The chatter you hear in most towns at this time of year revolves around Christmas. In Maleny, the street chats are often about who's going to Woodford this year. Who's performing, who didn't get in this year, who's camping, who's volunteering, have you got a spare pass, can I crash in your tent, they reckon it's going to be dry this year…
It is almost unthinkable to live in Maleny and not go to 'the Folkie', at least for one day. After all, it originated in Maleny, so not going is sacrilege.
The festival was run out of Maleny by residents whinging about all the dirty hippies wandering around with their dogs on ropes playing djembe for ten hours straight. Like there was something WRONG with that.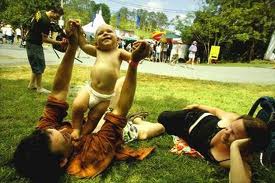 It left a big hole in Maleny's cultural landscape, but hey, it's only a 20-minute drive, and since moving to the Woodford site, the festival has been able to expand beyond anyone's wildest dreams. The revegetation of the site that has happened steadily over the years is a marvel in itself.
I've been to every Woodford Festival for the past ten years, but that's nothing mate — I know hardcore folkies who have gone every year for the last 26 years.
Some years I entertain the notion of not going at all. I mean, as much and all as I love it, it's an intense experience.
But I know as December 26 draws near and Maleny becomes a ghost town, I will not be able to contain myself. I will be sitting here in Maleny, imagining all the inspiring creative genius I am missing out on, all converging on one magical parcel of land tucked away in a place most people would never visit.
I will flick through my program and start ticking off acts and speakers and workshops, and when I get there, I will miss a lot of those, because I will be chatting to people I haven't seen much during the year. Or I'll forget the time while I'm immersed in a thought-provoking conversation with a random stranger over a bowl of halva in the Hare Krishna tent.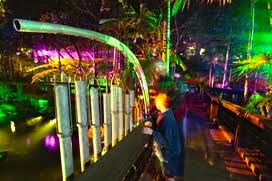 And even if it pisses down and I get stuck listening to a bagpipe band, I'll get over it. I may even end up enjoying it, like I did on that first New Year's Eve (sort of).
Sometimes, when the forces of nature compel you to stand in one place, you open your eyes, ears and heart to new things you never knew you could like.
I gave in and let the bagpipes work their blaring magic on me that first year. Under the shelter of the Big Top, I yelled 'HAPPY NEW YEAR!' over the music as I hugged strangers and celebrated with a thousand people, like we were all one big happy family.
Then the rain stopped and I made a run for the Parlour, where I danced to a circus metal band called Darth Vegas into the wee hours.