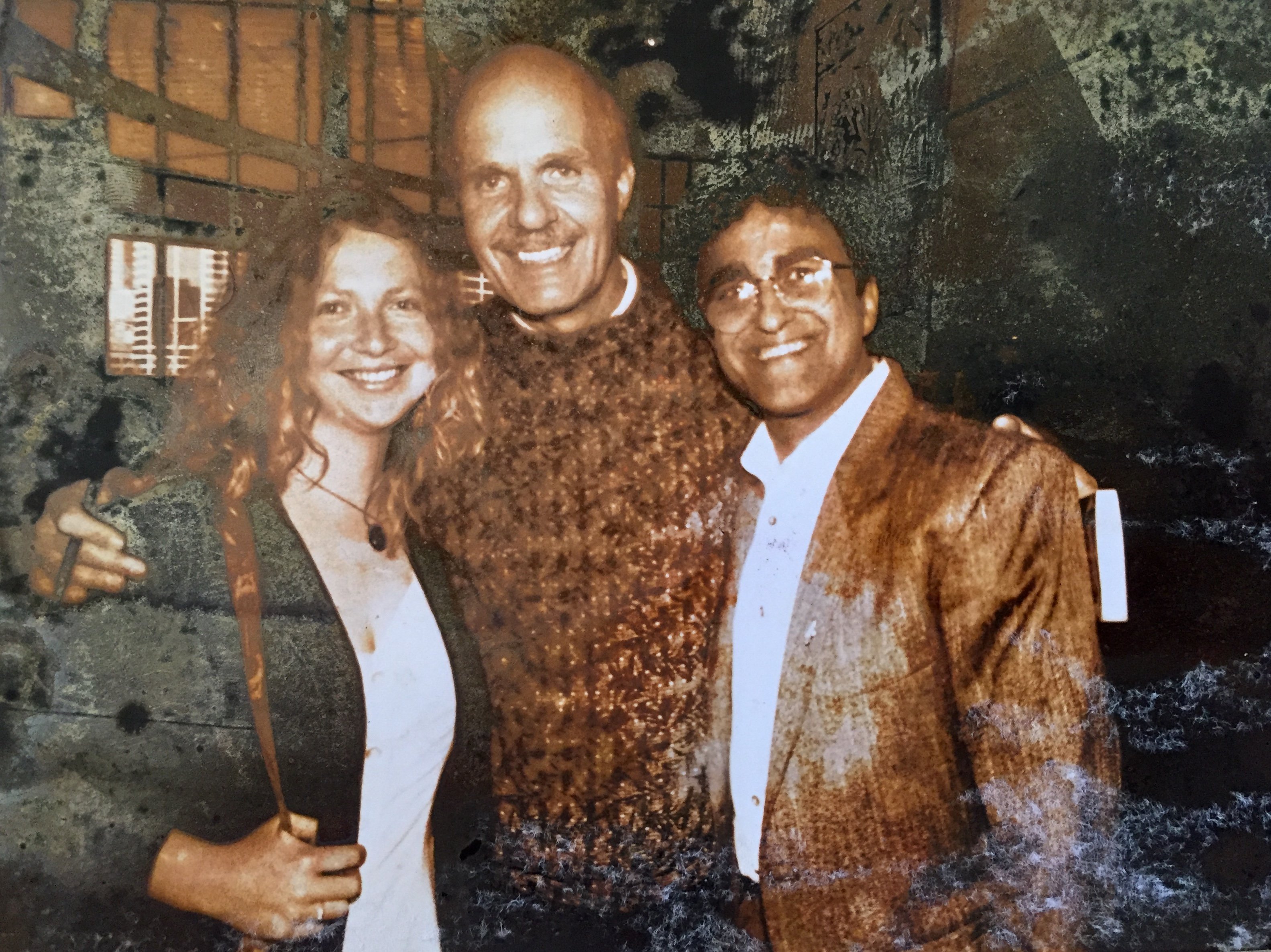 I met the author and speaker Wayne Dyer around 25 years ago and he told me something that always stuck with me: 'Don't die with your music still in you'.
He didn't tell only me, of course. He told hundreds of thousands of people around the world during his many self-development seminars. Wayne was great with a one-liner. He was a fantastic speaker who could stand on stage for an hour and wisdom would just pour out of him. None of it was fluffy and woo-woo, it was all practical and helpful, and deeply spiritual.
The man on the right of Wayne in the photo is Leon Nacson, the managing director of Hay House Australia. He was my first employer, back when I was still at university and needing a part-time job and we're still great friends, 30 years later. Back then, he ran a Sydney newspaper called The Planet and I worked there two days a week as a journalist, while finishing my communications degree.
When I graduated, I went to work for Leon full-time. He also owned a company called Nacson Promotions, which brought self-help authors, spiritual leaders and motivational speakers to Australia on tour. I worked with Leon on tours ranging from Wayne Dyer and Louise Hay, to Deepak Chopra, John Edward, Eckhart Tolle and Stuart Wilde.
One of the perks was meeting these teachers in person. I went on to work for Stuart Wilde in London, which I write about here and in my book, but most of them I just met briefly. Wayne was really tall and gave me the biggest bear hug ever. He was such a warm, caring person and you got the feeling he was in it for the right reasons. To help people.
His book You'll See It When You Believe It really changed my way of thinking back then. I was extremely negative and pessimistic and of the 'I'll believe it when I see it' school. For many years, I followed Wayne's optimistic ideas and pushed myself to achieve my goals and dreams.
Lately, I've found myself losing my optimism. Working as a journalist with weekly deadlines for the past eight years and raising two kids in my forties has left me exhausted and at times, cynical. I've found myself switching back to my old ways of negative and defeatist thinking patterns. So I've been rediscovering some of the teachers who really helped me change that back in the early days.
Wayne's words, don't die with your music still in you, have been turned into a book of the same title by his daughter, Serena. I haven't read the book but the words are truer for me today than ever.
Having recently published my first book, You Had Me at Hola – In search of love & truth in South America, I can honestly say I won't die with my music still in me. My music is my words and they're out on the page for all to read. Whether I sell one copy or a million copies, part of me is just happy I finally did it. Had I suddenly found myself on my deathbed, not having written that book, it would be my only regret in life.
Writing is my vocation, my passion, my metiér. It always has been, but for a long time, I doubted myself. Even when I was working as a paid writer – which I have done continuously since I was 18 – I doubted myself. I had to overcome mountains of self-doubt to write this book. I must have told myself hundreds of thousands of times that I couldn't do it, my writing wasn't good enough, I didn't have anything to say, no one would want to read my book, it would never be a success.
But the deep, soul-craving to do it never went away. At times I tried to push it away so I could get on with the business of building a career and a family and a life. But it was like a little creature that kept popping its head up saying, I'm still here. Don't forget about me. Feed me. And I would push it down and it would go quiet for a while, then it would rear up again, bigger and fiercer until it got my attention.
About seven years ago I finally gave in and sat down to begin. I stopped and started while I had children, suffered years of sleep deprivation with two kids who didn't sleep well, breastfed while working and all the crazy stuff we do as working mothers. But when I sat down and decided fuck it, I'm going to do it, there was no turning back.
I decided to write the best book I could and pour my absolute heart and soul into it. I faced daily fears, not just about the quality of the work, but what people would think of me. There's some stuff in my book that I felt people might judge me for. I don't regret any of it because it was all part of learning and growing into the person I am today, but I did have to overcome unsurmountable fear about what family members, acquaintances and even complete strangers would think.
Something kept driving me. It was more important to me to create the work than anything else and that powerful creative urge finally overtook my fears. I did it. I'm not going to die with my music still in me and there's more music where that came from. I hope I've put something good out into the world, something that helps and inspires people. I've already had one reader write to me to say my words helped her face a truth she didn't want to face.
That is worth more than all the money in the world to me. Book sales are secondary to my core value: honest expression. It's the same thing that drove Picasso to keep painting until he died in 1973 at age 92 – the year after I was born.
Don't die with your music still in you. My 'music' is honest, creative expression through writing. What's yours?
You Had Me at Hola – In search of love & truth in South America is available here or through Amazon, Booktopia, Barnes & Noble, Waterstones and Foyles. Readers on the Sunshine Coast can buy it from Rosetta Books Maleny, The BooksShop Caloundra, Harry Hartog Sunshine Plaza and Berkelouw Books Eumundi. Read the reviews here at Goodreads.