This post is a tribute to my old friend Stuart Wilde, who died of a heart attack while on a scenic drive through the Irish countryside on May 1.
They say people come into your life for a reason, a season, or a lifetime. Stuart Wilde came into my life for a season in my mid-twenties and made a huge impact on me. His public persona was often brash, belligerent, even downright offensive. But in person, he was one of the kindest, funniest, most generous and caring people I have ever met.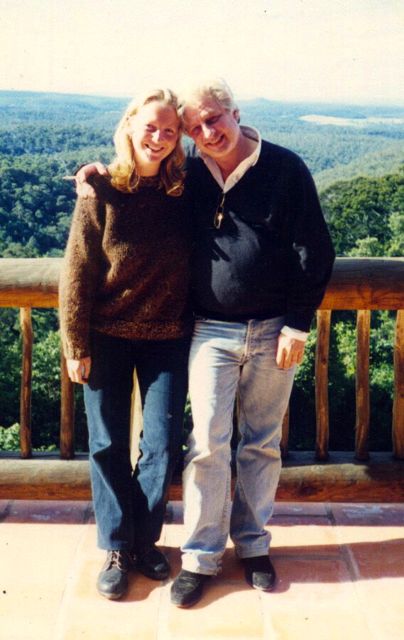 It was 1995 and I was a little lost bird, floundering around London, trying to find my feet after having left Australia for the first time. I'd backpacked around South America for three months and landed in London, penniless.
The day after I arrived, I nervously called Stuart Wilde to ask him for a job. THE Stuart Wilde. I was a big New Ager back then and I had read Stuart's books, like The Quickening, The Trick to Money is Having Some and Affirmations. I loved his wit and irreverence, and he struck me as kind of a Carlos Castaneda crossed with a comedian.
I had met him briefly in Sydney through my employer at the time, Leon Nacson of Hay House — Stuart's then promoter and close friend. Leon had put in a good word for me and said to call "Stu" when I got to London to see if he had any work going.
On the phone, Stuart said he didn't have any work for me, but he must have taken pity on the poor lost Aussie girl stranded in London and agreed to meet me at a pub in Notting Hill, just around the corner from his apartment. We had a couple of beers and got along like old mates.
We chatted about South America, and he was fascinated, asking question after question. I told him about the hallucinogenic plants over there, like San Pedro, peyote and ayahuasca. I think it planted a seed for him, because years later he started running spiritual ayahuasca journeys, where he developed new metaphysical insights.
By the end of the conversation he seemed to have taken a shine to me. He told me to come around the next day and I could type up some letters for him. One day's work turned into two, and soon I was there five days a week.
I converted his spare room into an office and he gave me his cheque book and sent me off to buy a desk. I was amazed he trusted me so quickly, but then, he was incredibly intuitive. I would never have ripped him off and he knew it.
"Don't buy anything new and ugly," he said. He would have hated to have a soulless piece of furniture in his house.
I went to a vintage furniture store and came back with a plain, old-fashioned timber desk that he seemed to approve of. Every task he set for me, I carried out in the hope of pleasing him, terrified I would make the wrong move and he'd tell me not to come back. I needed him more than he needed me, but he always made me feel valuable.
Stuart was at the height of his fame then: an author, metaphysician, speaker, music producer, writer, poet. Often I opened his mail to find a letter and a full length photo of an adoring female fan propositioning him.
Stuart was 50 at the time, and in love with a stunning English model. She was into yoga and wanted to go trekking in Nepal and Stu wasn't into it. He asked me if I'd accompany her on the trek.
"Absolutely, that's right up my alley!" I exclaimed.
"Yeah well it's not up my alley," Stu replied dryly. "I'll be waiting for you both in the pub."
The trek never happened, but she was often travelling for work, so Stuart spent many nights at home alone.
Sometimes he would ask me to stay after work and eat dinner with him, because "a man eating dinner on his own is terribly sad, don't you think?". He was world famous and very successful, but to me he sometimes seemed lonely.
Other times he would take me out to top London restaurants for dinner, and I could feel snooty eyes on us, wondering what a stylish silver-haired 50-year-old man was doing with a bedraggled 25-year-old dressed head to toe in op-shop clothes.
He did not seem to care in the slightest what I wore to accompany him to the poshest of London restaurants — or if he did, he never said so. He couldn't give a fuck what people thought of us and he became quite protective of me, demanding the waiter bring me a vegetarian meal immediately, after I'd been served the wrong dish. He made me feel as important as everyone else in the restaurant.
Our work days were filled with writing business letters, checking his stocks, paying bills. New Age gurus have paperwork to do, too. But sometimes he would hand me his cheque book and say something like, "Hon, I have to do a seminar on lucid dreaming next week, go and buy as many books as you can on the subject and write me up some summaries."
So he would pay me to go shopping for fantastic books, read them for him, and report back to save him some time. And he always paid me handsomely, in cash.
Stuart taught me a lot about money. Not necessarily how to manage it or save it, but how to make it and spend it. How to keep it flowing. He knew I was burdened with a deep poverty mentality and he made it his job to heal me of that. He was one of the most generous people I've ever known, and showed me by example what it was like to not have to worry about money, to spend it freely, as if the more I spent, the more I would make.
And for a magical time in my life, working for Stuart Wilde and travelling back and forth between London and South America every six months, I learnt about abundance mentality, and how to live an extraordinary life outside of the status quo. Outside of what he called, 'tick tock'.
During my second trip to Latin America I became stranded in Panama. I had a Peruvian boyfriend and the immigration officials would not let him cross the border. We were out of money and I had been travelling South and Central America for six months. I called Stuart from Panama and reversed the charges. And of course, he accepted the call.
"Hi Stu, it's Leigh. I'm stuck in Panama," I said down a crackling phone line.
"You mean, like the Panama Canal?" he asked.
"Yes, that place. They won't let us cross the border and I'm out of money and I need to come back to London. Can I come and work for you again?"
"Yes hon, of course. Catch a plane back straight away," he said without hesitating. "Oh and hon, could you bring some money from Panama back with you please? I'd like to use it for toilet paper."
That was Stu's sense of humour. He used it to lift people up from low down places.
During my second stint in London, Stu paid me to live in his beautiful Notting Hill apartment for three months while he did his Warriors Wisdom seminar in Taos, New Mexico. I couldn't believe my luck at having a luxurious London apartment for free. My main jobs were to water the plants and feed the cat. I forgot to water the plants and they died. I lost the cat on the first day.
When Stuart came back, he wasn't even mad. I had racked up a phone bill of 1000 pounds (at the time about A$3000), calling South America. He asked me how I was going to pay for it. I told him I'd work it off and all he said was, "Don't worry about it hon."
Most days, I worked in the spare room converted to an office, while he worked on his laptop in the loungeroom, cigarette hanging out of his mouth while he wrote furiously, calling out, "Get me a coffee would you hon?".
Some days he would come into the office and sit on the couch by the window, and we would have long discussions about metaphysics. Or about great thinkers throughout history. Or about aliens. Then he would say, "Stop working hon, let's order some Indian takeaway and watch a movie," and we would. Or he'd come in with 20 pounds and send me over the road to buy a box of fine chocolates for us to share. Or he'd invite me and all my crazy Aussie backpacker mates out for pizza and wine and he would always pay the bill.
Every day was a surprise with Stuart. Some days, he would wander his apartment all day, deep in thought, smoking. He would stand his cigarette butts up on the marble mantlepiece, or on pieces of furniture, and leave them there. One time I found a gift I'd given him — a solid Buddha I'd had carved out of amber in Mexico — lying on its side on the mantlepiece, covered in cigarette ash. I brushed it off and sat it back up the right way, but I realised material possessions just weren't Stuart's thing. Wealth, yes. Stuff, no.
Some days I would arrive and there would be a house full of his Irish mates, or New Age celebrities like Shakti Gawain, just hanging out in the loungeroom. Other days I'd arrive at 9am and he'd still be asleep. I had my own key, so I would begin working and he'd eventually call out from the bedroom and ask for a coffee, then emerge in his undies, his hair a mess and a cigarette hanging out of his mouth. He would stand in the doorway of the office, bare belly hanging out, a mischievous grin on his face and wiggle his fingers at me, like a wizard casting a spell. It was his way of having a bit of fun.
Stuart was almost always up for having a bit of fun.
Some days he'd tell me not to disturb him because he was going to meditate. He'd lie on the loungeroom floor and before long, I'd hear him snoring. Later I'd tell him he'd been asleep and he would deny it.
"No hon, I was just in a very deep meditation," he'd say, in all seriousness. He was the least guru-like guru I've ever had the pleasure of knowing.
He'd often say the most outlandish things and I couldn't tell if he was for real, or if he was drawing on his theatre background and putting on a little show for my entertainment. His teachings were not everyone's cup of tea. His personality could easily put people off. He seemed to go a little nuts at times, but I will always remember him fondly, because he took me under his wing with such kindness and with a complete and utter absence of judgement, no matter what I did.
We worked closely,  just the two of us in his apartment, and I came to love Stuart Wilde and all his idiosyncrasies. He taught me to stand up for myself, to aim high, to live in the moment and enjoy life to the fullest. For that short time in my life, when I was trying to figure out who I was, he was like a father to me.
Goodbye Stuart, I hope you have now found the answers to all the mysteries you sought to uncover.
Read more about my time working with Stuart Wilde in my 2019 memoir, You Had Me at Hola. You can buy it here on my website or at Amazon, Booktopia, Barnes & Noble, Foyles, Waterstones and Book Depository. Read the reviews here at Goodreads.