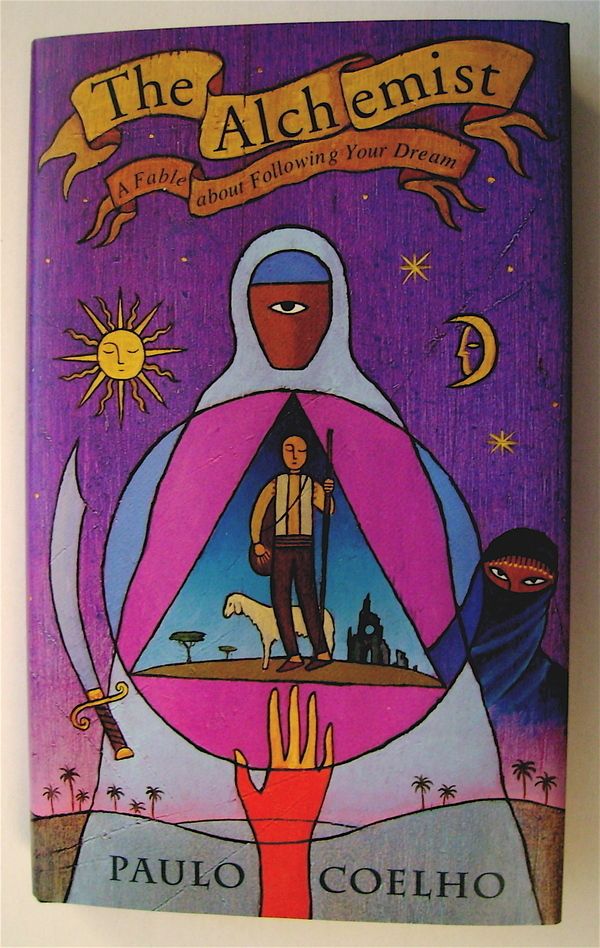 "If you think adventure is dangerous, try routine. It is lethal." – Paulo Coelho
I first heard of the Brazilian author Paulo Coelho in 1994 when his book The Alchemist landed on my desk for review. I was working for a newspaper in Sydney called The Planet. It was a healthy lifestyles and environment newspaper with a large section for book and music reviews at the back.
My desk was piled high with self-help books like The Celestine Prophecy and Creative Visualisation. I rarely had time to read them all, but when I saw The Alchemist, with its mystical purple cover, I was intrigued. It sat on the top of the pile for a few days before I took it home and devoured it in one night.
The next day I raced into work to look for the book's accompanying media release. I had to interview Paulo Coelho while he was still in Australia. I called his publisher but alas, he'd left for Brazil the previous day. My chance at interviewing this amazing author had passed.
It was one of the books that fed my desire to go to South America, least of all because Paulo is Brazilian. I loved that the book made me feel I had a destiny and that destiny was to travel to South America, where I would have some sort of epiphany.
The book's core premise – 'that when you really want something to happen, the whole universe will conspire so that your wish comes true' – was comforting. Blatantly untrue, I now realise, but comforting nonetheless.
Paulo said nothing was a coincidence – that signs and synchronistic forces came into play to guide you towards your true purpose in life.
I was devastated when I missed my chance to interview Paulo, but the following year, I did indeed embark on my trip to South America. I could never have imagined, when I was planning my three-month backpacking trip, that I'd end up living there for three-and-a-half years.
After my initial three-month visit to South America, I went to London to work and save money, but I was only half there. My heart, soul and spirit were still in South America, while my body was in London working and counting down the days till I could return.
I landed a job in London with the metaphysical author Stuart Wilde, who paid me well to do anything from type letters to read books on lucid dreaming to go to the pub for a few beers. I was able to save enough cash to return to South America after six months and as my departure loomed, I saw a talk advertised. It was scheduled for my final night in London. Paul Coelho was presenting a talk at St James Church at Piccadilly.
Oh my god! Fate! Destiny! The Universe conspiring! It's meant to be. My New Age little self saw it as such a huge sign. So I duly went to the talk, sat in a church pew and heard him speak. The man who had written The ACTUAL Alchemist, there in the flesh. I can't remember what he talked about now, but I remember not really feeling the vibe. Listening intently but not actually going, bingo! That's it! That's the lesson I came here for.
So halfway through his talk, at the intermission, I followed him to the toilet, like a crazed 23-year-old groupie. He was in there for a while, so I waited right outside the door. What would I say to the man who had written a book that made me believe anything was possible?
When he walked out of the toilet, I leapt at the poor guy and told him how I'd missed an opportunity to interview him in Sydney and was devastated and then had gone to Brazil and loved it so much and so many wonderful things had happened in South America but I'm still seeking some higher truth that always seems just out of reach and I know he has an important message for me because why else would I have seen an advertisement for his talk the night before I was due to fly back to South America…blah, blah, blah.
He listened intently and when I finally stopped to take a breath, he simply smiled and said: "It's not a coincidence."
And walked off.
I stood there, outside the men's toilet, dumbfounded. It's not a coincidence. It's not a coincidence. It's not a coincidence. Hmmm. Okaaaayyy…
Those words still ring in my ears. What do they mean? Fucked if I know!
But I did go on to enjoy many more of Paulo's books and now, 25 years after I first read The Alchemist, I've written my own book.
It's about me and a Peruvian artisan and for many years, I was going to call it The Artisan, as a nod to Paulo. I even tried to copy his allegorical writing at one point.
Thankfully, I stopped trying to write like Paulo Coelho or Isabel Allende or Gabriel Garcia Marquez and found my own voice and my own book title, something original, that just popped into my head one day out of the blue.
Who knows? Maybe it was the universe conspiring to make my dreams come true.
You can buy my memoir You Had Me at Hola: In search of love & truth in South America here on my website or at Amazon, Booktopia, Barnes & Noble, Foyles, Waterstones and Book Depository. Read the reviews here at Goodreads.